Have you ever wondered how to achieve a flawless step-by-step makeup application, even if you're a beginner?
Look no further. This guide is here to help you navigate the world of makeup with ease.
Whether starting or refining skills, we've got you, so you can express your style and enhance your natural beauty with confidence.
Gathering Your Makeup Essentials
For makeup beginners, the right tools and products are vital. Here's a concise list to kickstart your journey:
Foundation: Match your foundation to your skin tone for an even base.
Concealer: Hide blemishes and dark circles for a flawless look.
Blush: Adds a healthy flush to cheeks.
Eyeshadow Palette: Use neutral shades for versatile eye looks.
Eyeliner: Define your eyes with pencil, liquid, or gel liner.
Mascara: Enhance lashes for eye-catching appeal.
Lipstick or Lip Gloss: Choose your favorite lip product to finish your look.
Makeup Brushes: Essential for foundation, eyeshadow, and blush.
Makeup Sponges: Blend foundation and concealer seamlessly.
Setting Spray or Powder: Keeps makeup in place all day.
Preparing Your Skin
Before diving into makeup, build a strong foundation—your skin. Skincare is crucial for a flawless finish. Here are the fundamental prep steps:
Cleansing: Use a gentle cleanser to remove dirt, oil, and impurities.
Moisturizing: Apply a hydrating moisturizer for a smooth makeup canvas.
Primer: Use a primer to blur imperfections, fill lines, and enhance makeup longevity; choose based on your skin concerns.
These steps enhance makeup and promote healthy, glowing skin. A well-prepped canvas ensures makeup longevity and a polished appearance.
Step-by-Step Makeup Application
Starting on a journey to master step-by-step makeup application? Here's a simplified guide to help you achieve a polished look with ease:
Foundation and Concealer
Creating a flawless complexion is vital. Here's a simple guide to applying foundation and concealer:
Start with Clean Skin: Begin with clean, moisturized skin.
Select the Right Shade: Choose a matching foundation shade.
Apply Foundation: Use a brush, sponge, or fingertips to apply evenly, starting from the center.
Blend Well: Blend carefully, especially at the jawline and hairline.
Conceal Imperfections: Dab lighter concealer on blemishes, dark circles, or redness.
Blend Concealer: Tap and blend concealer seamlessly with your fingertip or sponge.
Set with Powder: Lightly dust translucent powder to prevent creasing.
With these steps, achieve a flawless base for your makeup.
How to Choose the Right Shade
Choosing the right shade of makeup products is essential. Here's a quick guide:
Foundation: Test on your jawline for a match.
Concealer: Slightly lighter than foundation.
Blush: Complement your skin's undertone.
Lipstick: Choose shades that flatter your complexion.
Eyeshadow: Neutrals work for most.
These tips ensure a harmonious makeup look.
Eye Makeup
Creating a simple yet elegant eye look doesn't have to be complicated. Here's a brief guide to achieving it:
Eyeshadow Base: Apply a neutral eyeshadow as a base.
Lid Color: Sweep a light eyeshadow over your eyelids.
Crease Color: Add a slightly darker shade to the crease.
Eyeliner: Apply eyeliner close to the lash line.
Mascara: Finish with a coat of mascara.
These steps result in a chic, understated eye look.
Tips for Eyeliner, Eyeshadow, and Mascara Application
Mastering eyeliner, eyeshadow, and mascara is key for beautiful eyes. Here are concise tips for stunning eye makeup:
Eyeliner:
Start with a thin line and build it up if needed.
Use short strokes for precision.
Apply eyeliner as close to the lash line as possible.
Experiment with different eyeliner types (pencil, liquid, gel) for various effects.
To create a winged look, extend the liner slightly beyond the outer corner of your eye.
Eyeshadow:
Blend eyeshadow colors seamlessly for a smooth transition.
Use a light shade on your brow bone for a highlight.
Apply a medium shade on your eyelid.
Add a darker shade to the crease for depth.
Blend well to avoid harsh lines.
Mascara:
Wiggle the mascara wand at the base of your lashes for volume.
Apply mascara in thin layers to avoid clumping.
Use an eyelash comb to separate lashes if needed.
Remember to coat your lower lashes for balance.
Waterproof mascara is great for long-lasting wear.
With these tips, your eyeliner, eyeshadow, and mascara application will be on point, enhancing the beauty of your eyes.
Blush and Bronzer
Blush adds a healthy flush of color to the cheeks, while bronzer is used to define facial features and create a sun-kissed glow.
How to Apply Them for a Natural Look
Achieving a natural look with blush and bronzer is about subtlety and balance. Here's a brief guide on how to apply them for a naturally radiant appearance:
Blush:
Choose a blush shade that complements your skin tone.
Smile slightly to find the apples of your cheeks.
Apply blush in a soft, upward motion towards your temples.
Blend well to avoid harsh lines.
Use a light hand for a natural flush.
Bronzer:
Select a bronzer shade one or two shades darker than your skin tone.
Apply bronzer to the areas where the sun naturally hits your face: cheekbones, forehead, and jawline.
Use a light touch and build gradually for a subtle warmth.
Blend thoroughly to ensure a seamless finish.
Avoid excessive bronzer for a natural, sun-kissed effect.
With these techniques, you'll achieve a fresh and natural look with blush and bronzer.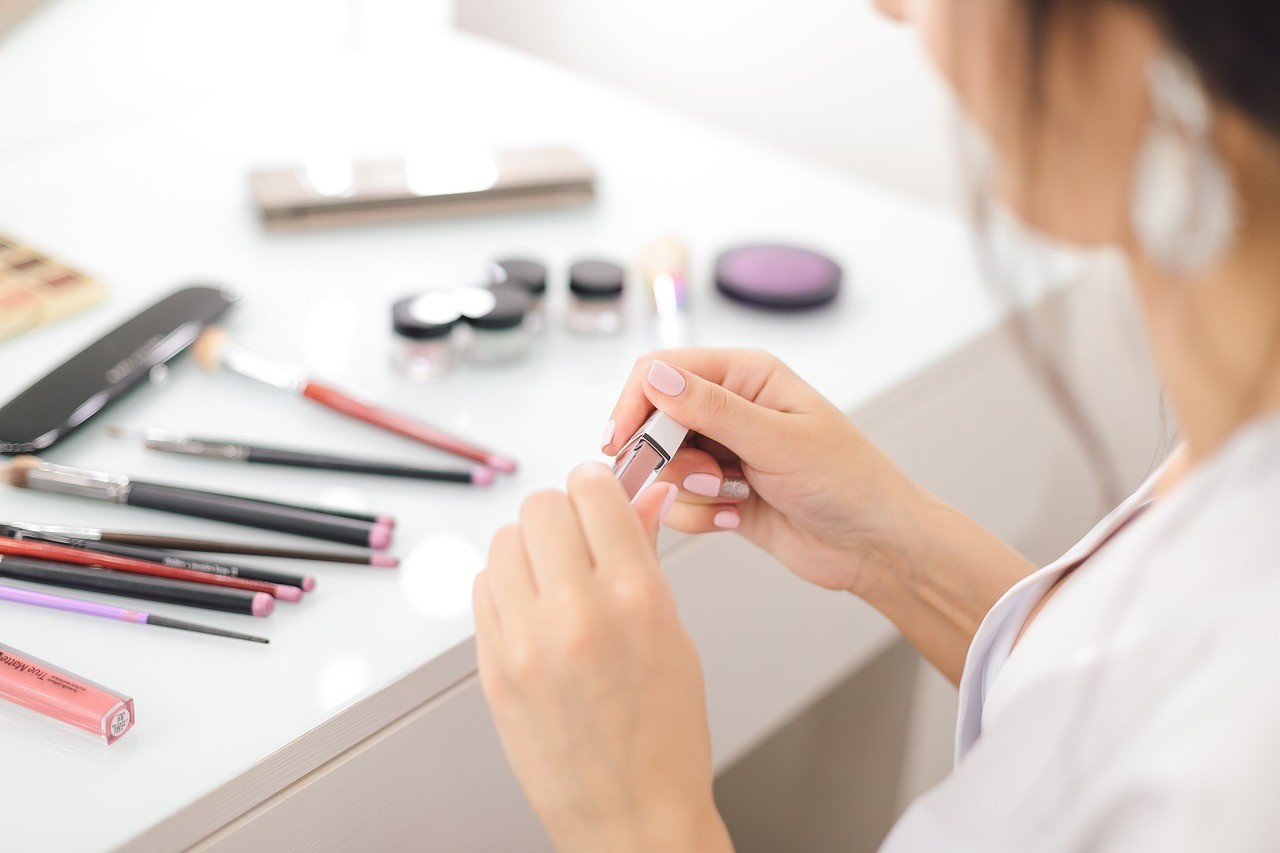 Lip Makeup
When it comes to lip products and shade selection, it's about enhancing your natural beauty and style:
Lipstick: Choose shades to match your skin tone and outfit.
Lip Gloss: Adds shine and works alone or over lipstick.
Lip Liner: Defines lips and prevents color bleeding.
Lip Stain: Provides long-lasting, lightweight color.
Choosing Shades: Consider your undertone and experiment with colors that suit you best.
Step-by-step Guide to Applying Lipstick or Lip Gloss
Prepare: Start with clean, moisturized lips.
Outline (Optional): Use the lip liner to define and prevent feathering.
Apply: Swipe lipstick or lip gloss onto your lips.
Blot or Remove Excess: Use a tissue to achieve a more natural finish.
Layer (Optional): Apply a second coat for a bolder color.
Clean: Tidy up uneven edges with makeup remover (optional).
Finish: Consider a matte look with translucent powder.
Setting Your Makeup
After applying makeup, ensure it stays put with a setting spray or powder to lock it.
Setting Spray: Hold the spray about arm's length away from your face and mist it evenly.
Setting Powder: Use a makeup brush or sponge to dust translucent setting powder on your face lightly.
Blend and Check: Make sure to blend any excess product and check for any areas that need a touch-up.
Avoid Overdoing It: Stay moderate with setting products, which can lead to a heavy or cakey appearance.
Long-Lasting Results: With the proper setting technique, your makeup will stay fresh and vibrant for hours.
With these steps, you'll ensure your makeup looks great from morning to night.
Final Touches
As the day goes on, it's natural for makeup to shift or fade. To maintain your flawless look, periodic checks and touch-ups are essential.
Oil Blotting Sheets: Blotting sheets remove excess oil without disturbing your makeup.
Translucent Powder: Dab translucent powder on shiny areas, like your T-zone, to combat oiliness.
Setting Spray: A spritz can revitalize your makeup and lock it in place.
Lipstick or Lip Gloss: Reapply your lip product after meals to keep your lips looking vibrant.
Compact Mirror: Carry a compact mirror for quick, discreet checks.
Conclusion
Mastering the art of makeup application is an achievable feat for beginners. With these simplified steps and essential tips, you can explore and enhance your natural beauty.
Remember, practice makes perfect, so don't hesitate to experiment and find what works best for you. Enjoy your journey into the world of makeup!